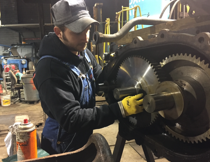 Join or Renew Your Membership Today!
We offer to you a positive, rewarding experience in railway preservation, whether in a supportive roll as a member, supporting staff, open house tour guide, or a "hands on" volunteer restoring Reading T1 2100 as part of the restoration crew. You can bring history back to life!
Our restoration crew volunteers come from all backgrounds, including Teachers, Firefighters, Airline Pilots, Welders, Machinists, Computer Programmers, Security Specialists, Truck Drivers, Railroaders, Veterans, & Others.