American Steam Railroad (ASR) is the owner of the 1352, having purchased the locomotive in 2008.
Built in 1944 by rebuilding an existing 2-8-0 into a 2-8-2 to provide more power for the war effort, the Frisco Railroad ultimately built 7 of this class
1944-1952 – Frisco freight service
Tractive Effort: 53,355 lbs.
63,355 lbs w/booster
Tender Coal:    18 tons
Water:    10,700 gal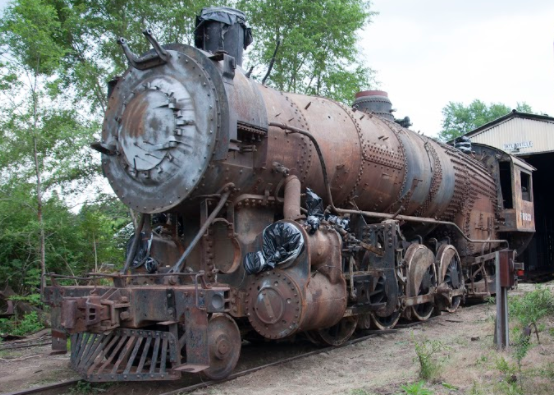 More photos available under News & Media
Complete History of the Frisco no. 1352
     A 1912 graduate of the American Locomotive Works, Frisco locomotive no. 1352 began life as 2-8-0 Consolidation type, and during World War II was rebuilt into a 2-8-2 Mikado with stretched boilers, modified tenders, a trailing truck booster, and new firebox enhancements aimed at increasing efficiency and improving horsepower.
     No. 1352 was preserved in numerous states after retirement in the late 1950s, and sat in Illinois until purchased by the American Steam Railroad in 2008.
     To date, No. 1352 has received important disassembly, maintenance, and lubrication in preparation for its eventual move. Initial visual inspections render the locomotive to be in reasonable condition.