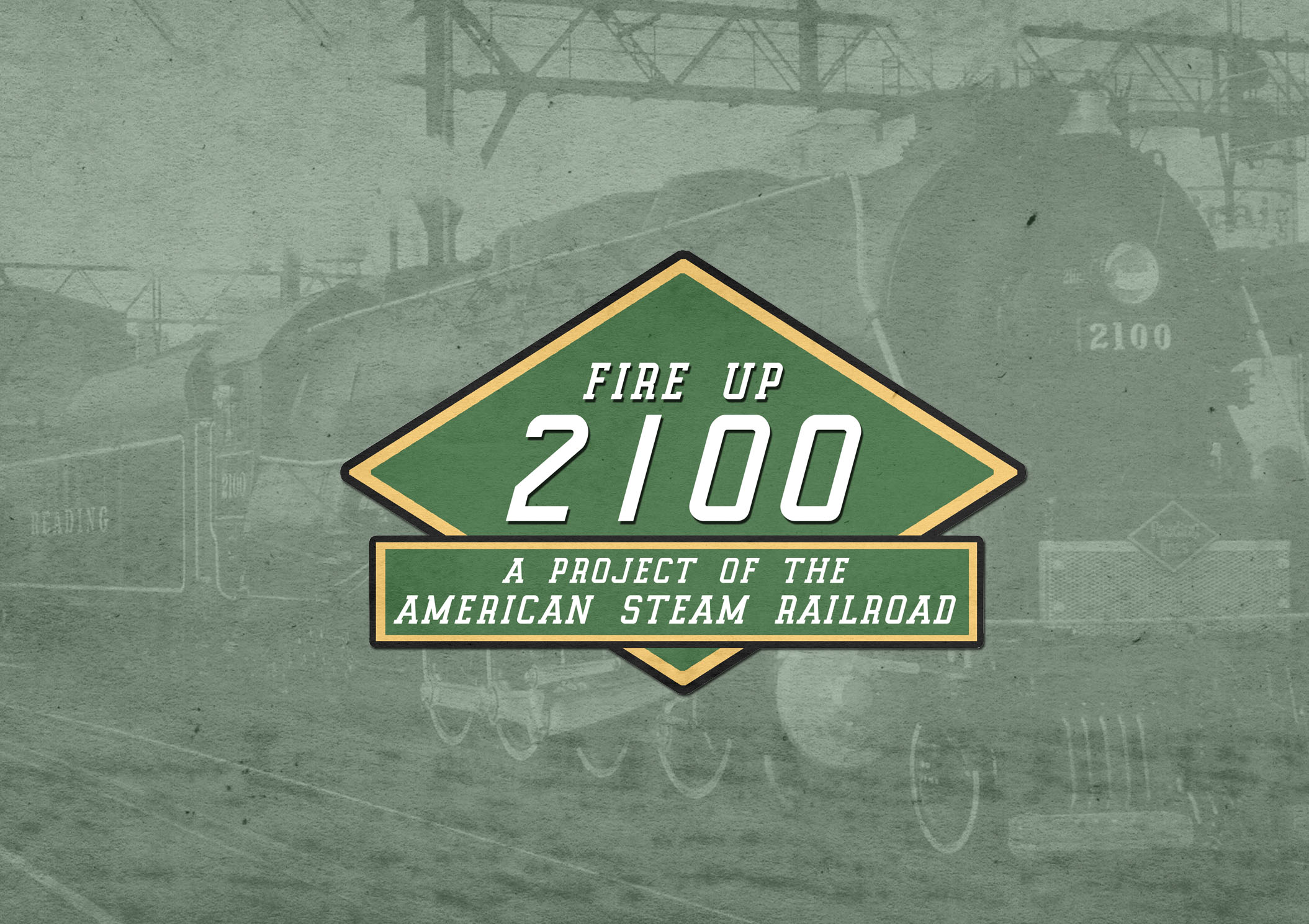 The American Steam Railroad Preservation Association (ASR) is proud to reveal Fire Up 2100, a campaign to rehabilitate famous Reading Company steam locomotive No. 2100 to operation.
The year-long effort has seen Reading 2100 removed from a storage site in Richland, Washington and prepared for shipment 2,300 miles to Cleveland, Ohio. Contractors and volunteers will begin an involved mechanical inspection of the engine and begin the effort to rehabilitate it at the site of the Midwest Railway Preservation Society. The locomotive was removed from Richland on Thursday, April 16th after several weeks of preparation.

"Fire Up 2100 is a great example of the type of programming that the American Steam Railroad will pursue moving forward," explained Steven Harvey, Chief Executive Officer for the organization. "2100 has a lot to teach us about not only the highs and lows of our country's industrial revolution, but the railroad preservation industry itself."
Throughout the United States, a half-dozen locomotives of comparable size and vintage to the 2100 have been employed in excursion and exhibition service by various railroads and preservation organizations. ASR envisions 2100 serving in a similar capacity. ASR has already begun engaging potential venues for the locomotive once its operational.
The cost to inspect and return 2100 to operational status is estimated not to exceed $700,000. ASR is currently accepting donations at fireup2100.org.
A video covering the work on 2100 will be released later this week.
"Reading 2100 is a very low mileage locomotive in surprisingly good shape given its history," explained Jason Sobczynski, a locomotive contractor hired for the locomotive's movement and restoration work. "It's an engine that has spent more time in transport and storage than it has in excursion service."
Originally constructed for the Reading Company in 1928 as a small freight engine numbered 2020, the locomotive underwent numerous restoration and operation attempts throughout its storied history. While in service for the Reading, it was reconfigured from a smaller freight engine into a larger, more powerful Northern-type engine in an innovative response to war time restrictions on new locomotive construction. The Reading Company classified these locomotives as T-1s and renumbered them 2100 through 2129. As such, 2100 became the first T-1 in service.
"The Reading T1 is a signature locomotive that needs to be preserved and operated to demonstrate what an incredible powerhouse the Reading Company created from a more humble engine. The 2100 is an example of an inventive railroad in its prime," said Jim Wrinn, Editor of Trains Magazine.
Used to power the Reading Company's Iron Horse Rambles from 1959-1964, the 2100 and other T-1s introduced a new generation to the significance of steam railroading in the United States until they were finally retired. Rescued from a scrap yard in 1975, 2100 changed ownership on numerous occasions and ran infrequently in Maryland, Ohio, and later in Canada. After a fuel conversion, 2100 was transported to Tacoma, Washington where it operated in limited excursion service for a short line railroad until 2008. Three other Reading Company T-1s exist on static display in Pennsylvania and Maryland. 2100 will remain privately owned until 2021, when the locomotive's next federal inspection is scheduled.
The Reading Company is famously remembered as one of the original railroads featured in the board game Monopoloy and as one of the first railroads constructed in the United States. As such, it was one of the largest and most profitable railroads in the world during the 1870s.
"Getting the locomotive back to the Midwest is a significant way to recognize our 10th anniversary in the railroad preservation industry," stated Harvey. "Just moving the 2100 closer to home territory is a victory."
Founded in 2005, the American Steam Railroad's first project was to acquire and stabilize Frisco Railroad locomotive No. 1352 in 2011. To date, the organization has raised 30% of the funds to move the 1352 and performed critical maintenance to prepare it for restoration.
"We discovered early on that there are countless locomotives in the country that have deteriorated due to location, ownership, or dozens of other factors," said Harvey of the organization's forming. "Had we not begun work to stabilize 1352, the opportunity to save the 2100 would have never happened," he stated.
"So many locomotives were saved to memorialize an industry and preserve them for future generations, but were done so without long term plans for care or maintenance," explained Kelly Lynch, a marketing consultant for the project. "A number of these engines have become orphans. And now the skills to preserve and operate these machines are by themselves a dying art."
As part of its ongoing efforts with 1352 and 2100, the organization will approach communities where orphaned locomotives reside with recommendations for best practices and cosmetic restoration should similar grassroots efforts take hold.
The American Steam Railroad extends its thanks to BNSF, Norfolk Southern, CSX, TTX, Barnhart Crane & Rigging, Wheco Corporation, Delhur Industries, Inc., Walter A. Stapleton (OMNI Transerve), Lou Schillinger (United Shortline Insurance), Zach Hall, Jason Sobczynski (NextGen Railroad Services), Kelly Lynch, and Tom Payne for their critical assistance in the project.
Initial work on 2100 will take place at the the Midwest Railway Preservation Society as part of an ongoing partnership with the organization.
Additional information, photos, and videos will also be released online at fireup2100.org and americansteamrailroad.org.